THE

PAYMENT SYSTEM

BUILT FOR

OPERATORS

At Tap2Park, our mission is to revolutionise the way parking operators in the UK manage their payment systems.

By providing a sleek, intuitive cashless parking platform, we aim to not only make the process of paying for parking more convenient for drivers, but also to significantly reduce operational costs and increase revenue for parking operators.

Our powerful and flexible platform is tailored to the specific needs of each location, offering a range of features and benefits to enhance the parking experience for both operators and users.

We are dedicated to constantly improving our service and offering exceptional support to ensure that operators can focus on what they do best: providing top-quality parking services.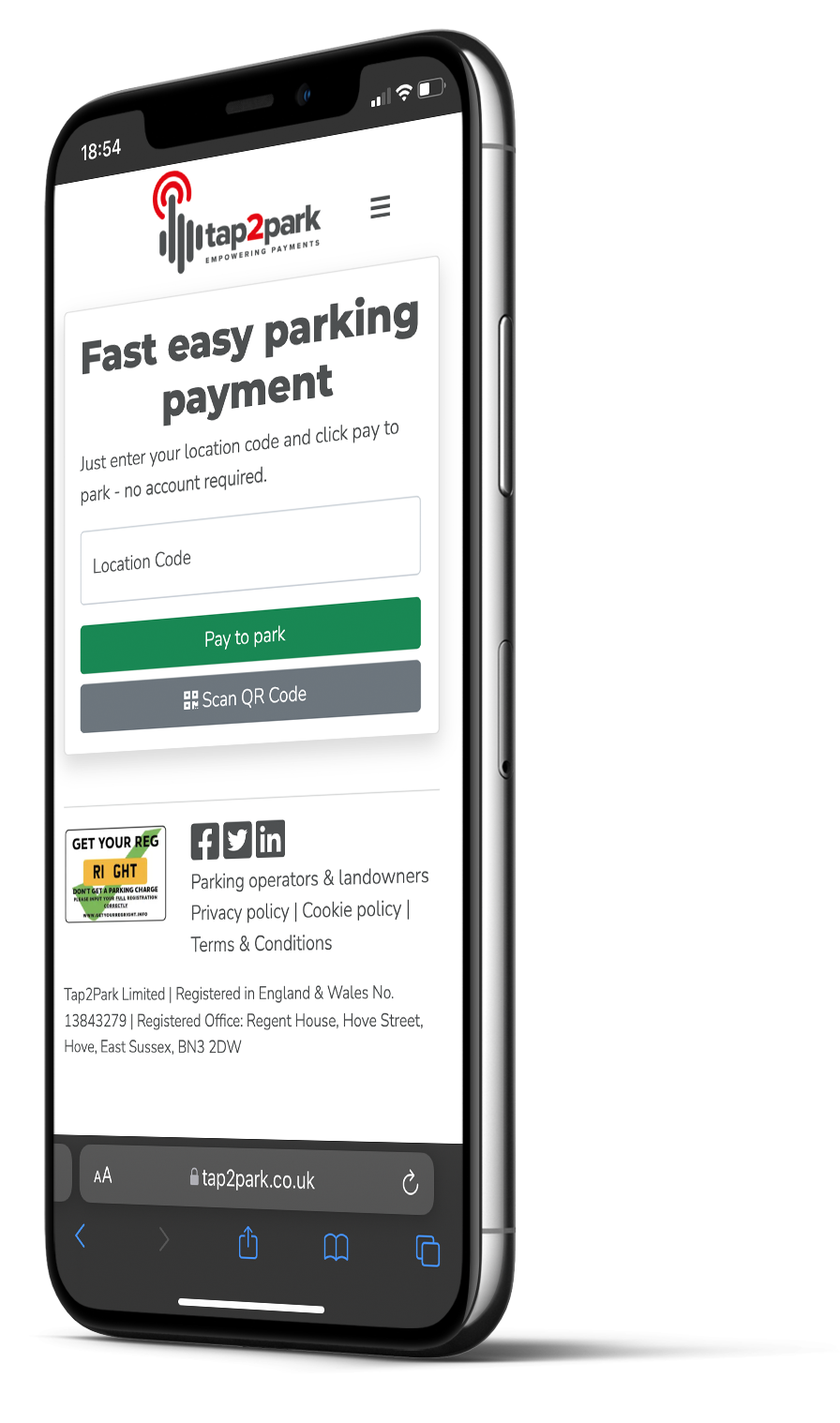 Key Features
for operators
Our platform is tailored to the specific needs of each location, offering a range of features such as:
Streamlined Payment Process
Tap2park allows your customers one of the fastest payment services on the market.
Each location can have different payment requirements, from pre-booking, pay-on-entry, pay-on-exit to pay later - plus no merchant account is required!.
All major cards accepted including Apple and Google Pay.

Instant Location Code Generation
No more completing paperwork or spreadsheets just to request a location code from existing provider
Tap2park provide the location code in real-time automatically, you can even see if you favourite number is available
If you have your own branded white labeled system, all numbers are yours to choose as you please!.
Full Location Management
The Tap2park manager give you complete control over your location.
This includes: location setup, tariff & permit choices, integrated parking system partner, camera feeds (pay on exit), refunds and much more.
While you have complete independence, our support team is always on-hand to help with questions and setup help.
Lower Operation Costs
Tap2park can reduce your operation cost by removing the need for your own merchant account and our financial team can remit and report directly to your clients, based on your instructions on a weekly or monthly basis. Including contractual commissions/splits to you, your client and other parties.
Sticker & Signage Printing
(available direct in system)
Location Tap2park signs and machine stickers can be ordered directly from the Tap2Park manager and delivered nationwide.
This can include your dual your branded enforcement or tariff signs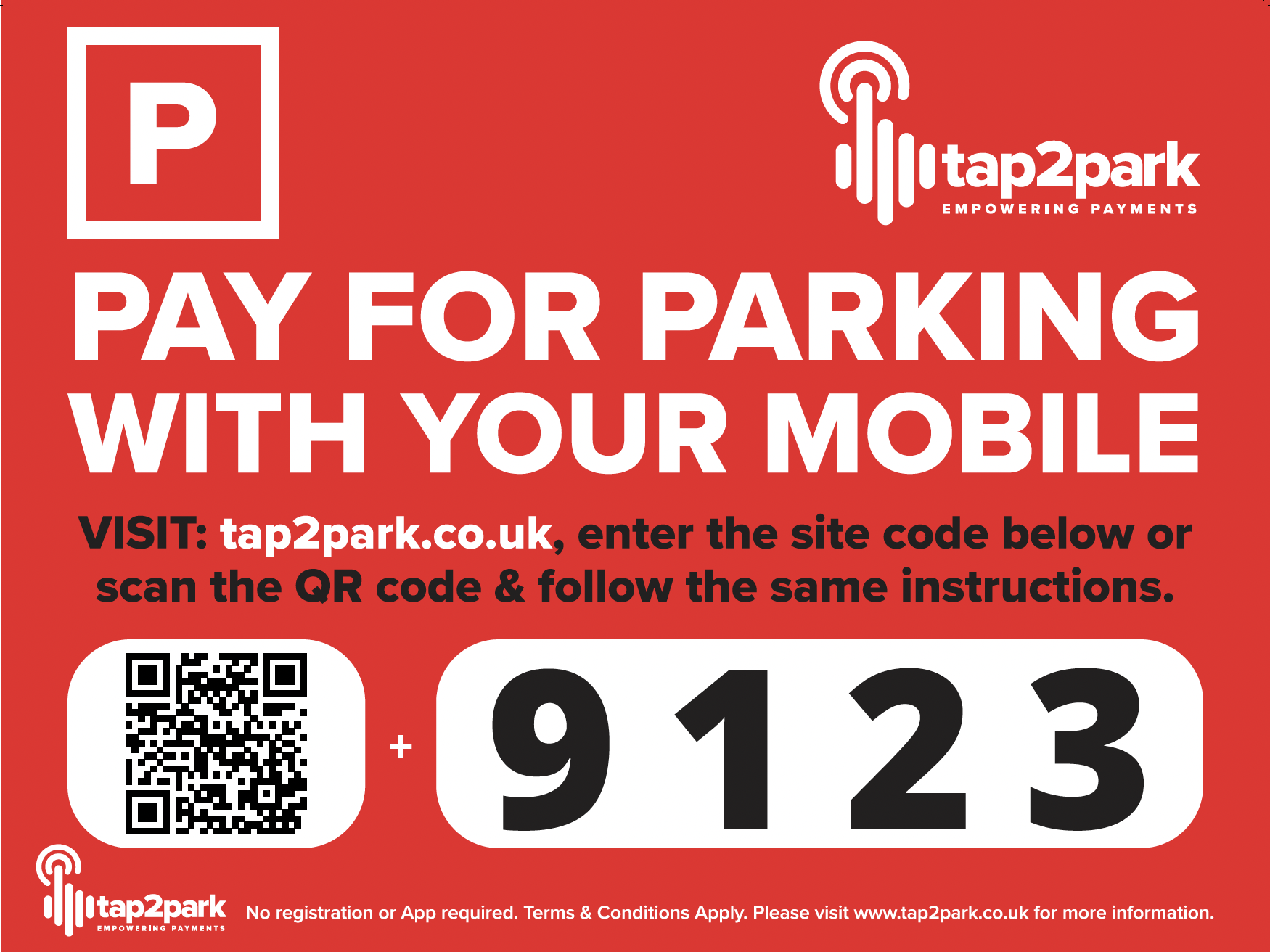 Confirmation Payment Transaction Uploaded to Enforcement Partner
No need to download and reconclie payments with your enforcement partner.
Tap2Park manager provides a visual indication the transaction has been successfully received by their software.
Integrated with: ZatPark, Imperial, iView and PayMyPCN.net
Tap2park is probably already ready to go with your parking software, we are integrated with all leading suppliers.
We can also provide API and WebHooks for extra bespoke software functionality.
Additional Revenue Generation
Tap2park allows you to increase and diversify your revenue by earning per transaction and lowering your overall operating costs.
No Lengthy Contract
We believe Tap2park will be a must product for your locations, therefore, we won't insist on locking you into any contracts to use the Tap2park service.
Your Brand,
Your Payment Solution
Enhance your cashless parking solution with our white labelling own branding services.
Why own branding?
Customise your parking payment solution to align with your existing brand and customer experience, ensuring that it seamlessly fits into your business and enhances your portfolio of services.
Own Your Customers
Building your brand and then passing "ownership" of your customers to someone else can be damaging. With your own solution, you retain your own customers for loyalty and onward marketing opportunities.
About Us
Innovation that is Empowering Payments!
Tap2Park is a parking payment solution was born from an innate desire to create a solution that was incredibly easy to use to for the motorist, whilst also providing versatile and powerful customisation tools to car park operators.
No app to download or account registration required.
From data obtained through more than 30,000 motorists surveys, we were able to confirm a long-standing suspicion. What motorists are looking for is a solution that is fast, simple to use and didn't clog their devices with yet another app and just want to be able to park without the need to create an account.
We are proud to support more than 100,000 active monthly users and this number continues to grow everyday.
Works with existing payment systems
The innovative Tap2Park cashless payment solution comfortably complements incumbent payment systems by providing fast, seamless, no fuss payment processing or has the power to replace them altogether.
Continued innovation
In 2021, Tap2Park launched a white label (own branding) option to a select few operators and are proud to say this met with resounding positivity. That's why in 2022 we have opened this up to the open market.
Amaraa Parry, PARKON
Managing Director, ParkOn Limited
We use the Tap2park cashless system across multiple sites all over the UK and their innovative solution works both for us and our customers.
The user-friendly back-office portal is capable of handling any necessary changes like a dynamic pricing structure. We are able to monitor live revenue, data reports and their real-time API links tie in with our back-end enforcement system seamlessly.
We would highly recommend Tap2park to anyone who's looking for a cashless payment solution.
Andrew Oliver
Head of UK Operations, Parking Control Management (PCM)
PCM successfully utilised the Solutionlabs 'tap2park' cashless parking process for two years. We found the Solutionlabs team to be best-in-class, for not only delivering a clean, easy to use cashless parking solution, but for rapidly responding to any requirements that we had.
So pleased were we in fact that in late 2021, PCM extended our Solutionlabs contract to include a whitelabel clause. PCM now have our own system which has been branded to our guidelines and our clients love it as much as we do.
Our uptime is 99.99%, response times are minimal, and the Solutionlabs team are always there should we need a demo version or to change any aspects of the user experience.
We highly recommend Solutionlabs and Tap2Park to anyone looking for a pro-active agency for a great product, delivered on time and to budget.
Bill Ideson, iPark Smart
Managing Director, iPark Smart Limited
We use Tap2Park as a cashless solution in our car parks across the UK. Their online platform provides our customers flexibility in payment options for parking. The systems live pricing structure allows us to adapt the tariff across our sites in an efficient manner using the client back office. 
The Tap2Park teams are exceptionally knowledgeable and assist with queries in a quick and efficient manner.
The Tap2Park system pairs up with our back office enforcement system allowing for a seamless transition for our colleagues dealing with our sites.
We would really recommend Tap2Park to anyone.
Come Work With Us!
Please contact us to find out how the Tap2Park platform can help you.